The Second Amendment to the Constitution of the United States was intended to memorialize the pre existing right under English Common Law of all law abiding citizens, who by birth are automatically ordinary militia, the right to defend this land against all enemies, both foreign and domestic.
Victor Lopez, the founder of Sierra Element Tactical Firearms Training is no stranger to the dangers posed by evil governments around the world, as a USMC Sniper and LAPD cop. Being a combat veteran, he knows that when seconds count, the police are usually minutes away. So he knows that a well armed citizenry creates a threat that makes criminals, no matter what position they hold in society, think twice.
And who better to train and educate law abiding gun owners than military vets who already swore an oath to uphold and defend the Constitution of these united States of America? You guessed it the best people to teach about the sacred right of self defense are those who have already sacrificed for this great nation. But even more interesting is that Sierra Element put its "money where its mouth is," in teaming up with Second Amendment Rights, and personal injury attorney, Michael Ehline of Ehline Law Firm PC for a worthy cause for vets.
---
The Event Was for Vets Only and Addressed a
Wide Range of Issues and Training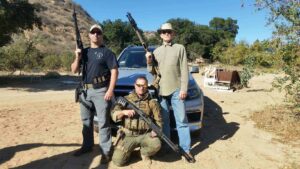 Gunnery Sergeant "Vic" and his company, Sierra Element Tactical Firearms sponsored the "Veteran's Day Shooting Event for Vets," yesterday, November 11, 2015 at the Whiskey Ranch gun range for free. That's right, a bunch of old warhorses like Ehline, himself a former U.S. Marine, Pat Milne a former U.S. Army soldier and Los Angeles Deputy City Attorney, and others, got together to shoot some of the latest firearms, learn some new tactics, and discuss the continual erosion of our sacred right to keep and bear arms in this increasingly dangerous world.
---
Ehline has been training with Sierra Element for some time now, and Ehline says:
"Hooking up with a Marine brother, after being stuck in court and with others who have never served is a major pressure reliever. Vic is a solid, patriotic American who decided to volunteer his time to reach out to vets and I am truly grateful for having had an opportunity to offer legal tips on firearms storage, transport and other legal issues affecting the citizens of California whose gun rights are under constant assault by politicians who have never served, or even handled a firearm for that matter."
---
Ehline says that Vic assists females and other individuals in understanding how to safely exercise their right of self defense, safe handling of firearms, muscle memory and confidence building. Sierra Element is also working with Wishes for Warriors and other foundations to assist the families and their veteran members in transitioning and surviving in a world where veterans are committing suicide at an alarming rate. Ehline himself has dedicated his time to helping veterans find work in the legal community, and is interested in recruiting Marine Raiders and other high speed operators into the law field on the California State Bar Law Office Study Program.
If you want to learn about your legal rights from Ehline, learn tactical training from a real Marine sniper, or are a vet, Sierra and Ehline are here for you. There are still patriots left in California, and they invite you to exercise your unalienable rights in a safe manner by learning and training with the very best. Happy belated Marine Corps. Birthday and Vets Day and Semper Fidelis!