A Commitment to Safer Roads
Mothers Against Drunk Driving is again hosting a walk to prevent drunk driving among people of all ages. The group's philosophy of saving lives and community reinforcement has been a bright spot in the fight against impaired driving.
The Carlsbad branch of the group is again putting on the Walk Like MADD to increase awareness against driving while intoxicated. The event will take place at the Shoppes at Carlsbad on November 5th. Registration will be from 7:00am to 8:15am and the 5K walk itself from 8:30am to 10:00am.
All are invited to the event, which has received substantial community support. Ehline Law is one of the bronze sponsors of the event. Our attorneys understand far too well the consequences of drunk and impaired driving. Far too any families have seen their family members killed and seriously injured due to such reckless behavior.
Ehline Has a Noble Commitment to Families Wanting Safer Roads:
Our commitment to MADD is strong, and their mission is one of the most noble.
"We're glad to take part in the walk again,"lead attorney Michael Ehline said.

"This is one step toward reducing the heartbreak too many families face."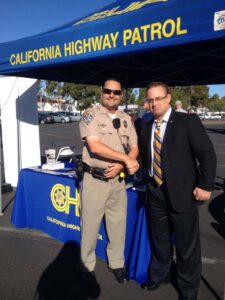 Ehline believes in the mission personally. It is a bittersweet one as a disabled former Marine. Working with clients whose lives were torn apart by DWIs and DUIs, he just wants to do his part.
"Our firm has worked with law enforcement to track down drunk drivers," he added, "Over a thousand Californians die due to drunk driving a year."
Ehline Law Firm will continue to partner with MADD and other community groups to help make Southern California's roads safer, day by day. The volunteers at MADD have certainly done a lot to make that hope closer to reality.
For more information, please contact the Ehline Law Firm Personal Injury Attorneys APLC at (213) 596-9642.