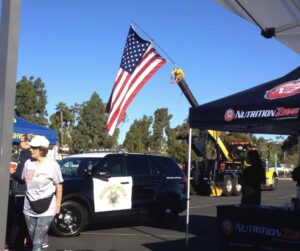 It was a cold, brisk morning in Carlsbad when Michael Ehline of Ehline Law Firm PC arrived at the Carlsbad "Walk Like MADD" (Mothers Against Drunk Driving), event for 2015, which was held on Saturday November 7th. Ehline Law was participating in the walk held at Westfield Carlsbad and 2525 El Camino Real, just up the street from their Wright Place location.
As Michael, a former U.S. Marine, pulled up, the first thing he noticed was a massive American flag hanging from another equally massive tow truck from NK Towing.
---
Even cooler was the many of the vendors and participants, including the CHP officer tending the CHP display, who were inactive U.S. Marines. Right away, Ehline knew this was the place for him. Pure apple pie, and for a cause of defending the rights of sober people on the roads from the drunken driving enemies of liberty.
Some of the Carslbad WalkLikeMadd Participants and the Venue Itself
The venue, held at the southwest end of the Westfield Mall parking lot had vendors setting up by 6:00-7:00 a.m., and participant registration check-in was from 7:00 a.m. to 8:00 a.m., with participants receiving a T-shirt. Dogs were welcomed for the walk, as long as they were leashed. Chick-fil-a was on hand selling coffee and breakfast sandwiches, and they were really tasty after all that hard work setting up displays.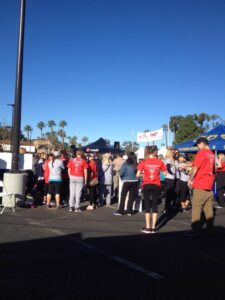 The vendors participating in the event were open in the marketplace from 7:00 a.m. through 10:30 a.m. with all types of offerings to event goers. The MADD walk started at 8:30 a.m. with the opening ceremony with special guests at 8:10 a.m. before the 5k walk.
MADD Walk Vendors of Special Mention
Seeing the huge flag flying off the tow truck, Ehline reached out to event sponsors Amir of NK Towing, and Patrick Flynn of Patrick Flynn's Auto Body repair shop, right away, and learned that many of their clients include auto accident victims of DUI, and the consensus was reached by all of us, that we could find alternative ways of making a living and would indeed do so, if it meant eliminating the tragedy of DUI driving. Ehline says that the best way you can show your appreciation is to give them an awesome review on Yelp! at the links provided in this press release.
The Silent MADD Auction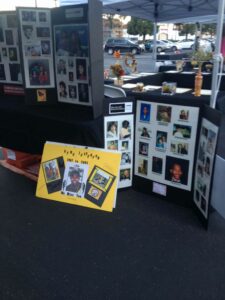 A silent auction was held from 7:00 a.m. through 9:45 a.m. with all types of items including Sea World and Disneyland tickets. The items were donated to MADD who will keep the proceeds from the auction.
The Victim Tribute Area and the Lessons Learned About Bereaving Victims Losing Rights to Compensation
The one area that was of interest and reverence for attorney Michael Ehline was the Victim Tribute Area, where loved ones who were victims were honored in this special area. Ehline Law was a "Bronze Sponsor," and Michael himself tended the booth, while he consoled the many victims of bad car accidents. Noteworthy were the many stories of people so bereaved, that they had been unable to file personal injury and wrongful death claims within the applicable statute of limitations.
So to add insult to injury, many of these victims, some of who were left behind with children had literally given up their rights to seek personal injury lawsuit damages from the neglectful individuals responsible for the emotional and physical trauma that had been forced upon them by drunk drivers. Ehline wants to make it clear to all victims that they need to immediately retain a lawyer and leave their legal troubles to him or her while the victims go through the grieving process.
---
Life Changing Attorney Tips for After a DUI Crash
Ehline says:
"Don't sleep on your rights, you have kids, and other people around you who once relied upon a wage earner for their very survival. If you allow yourself to fall apart before getting legal help, you merely are creating more victims and increasing the likelihood of more problems like indebtedness and bankruptcy. Reach out to Ehline Law Firm toll free at 888-400-9721 immediately. You are not just a file with us, you are also our friend."
---
The Reach of Walk-Like-MADD
The Walk to end drunk driving is held in over 60 cities nationwide with numerous locations in California like San Diego, Bakersfield, Huntington Beach and Fresno along with cities. California event dates can be found on the MADD website. For people who cannot join the walk but would like to participate they can sign up as a virtual walker or donate to another walker or team.
The Outcome
Last but not least, Ehline Law wants to thanks Jim Duckworth, the Madd Walk event organizer Michael dealt with, and friend of U.S. Marines. (Ooohrah!) According to Jim, the event was a great success, raising well over $25,000.00 and over 300 participants turning out for the walk itself. All funds raised are being used locally in San Diego to educate and raise awareness in students on the dangers of underage drinking and to support victims of this violent and tragic crime involving alcohol abuse.
One of the focuses of the education outreach is preventing underage drinking, and helping minors understand that drinking and driving is not only not cool, it is downright deadly. The sponsors are too many to list here, but here is the link to the MADD Carlsbad event page, and Ehline, a husband to one, and father of two, wants to thanks all the vendors, and MADD for making the event a resounding success.
Ehline Law Firm PC believes these are important events that bring awareness to the community about driving under the influence and the consequences both for the victims and the families. The goal is "NO MORE VICTIMS." Remember that next time you grab your car keys after downing a few. Consider a taxi, or a text to Uber? In the meantime, Ehline wants to thank MADD, and encourage you all to stay safe and aware as you traverse the California roads.
As we celebrate the Marine Corps. birthday today, remember your duty to avoid drinking and driving. To get a hold of Ehline, reach out to him or the firm on Yelp! HERE, and let them know about your consumer experience with the firm and its staff as MADD event sponsors, or call now at (760) 517-9022.