[vc_row][vc_column][vc_column_text]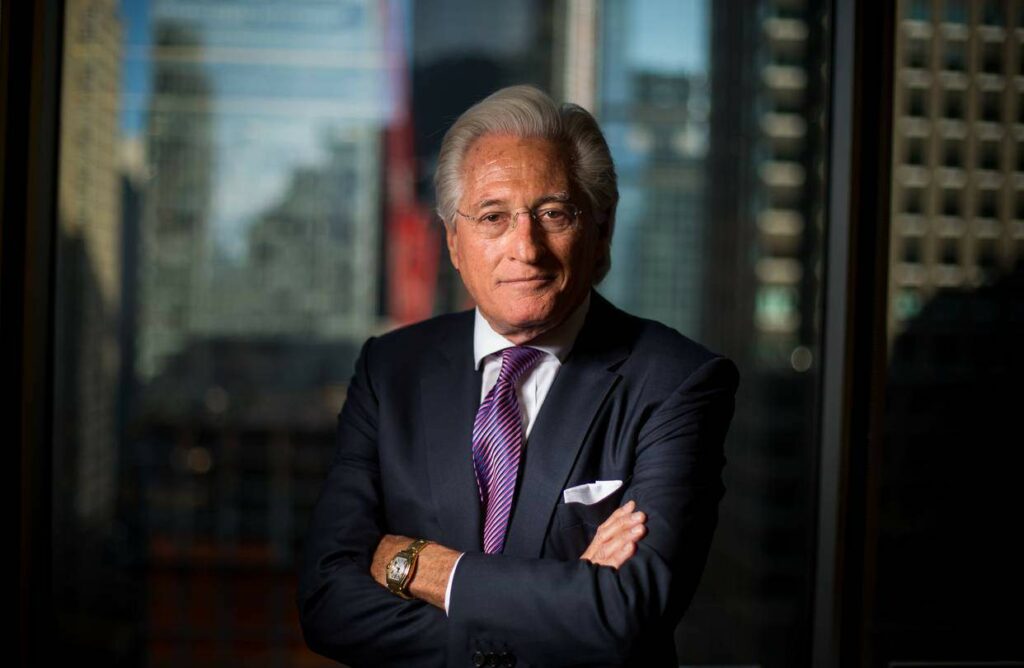 Bill O'Reilly's troubles over sex allegations at Fox News have lead him to one of Wall Street's toughest lawyers – Marc E Kasowitz.
Mr Kasowitz comes with a reputation like few others, for handling tough lawsuits and tough clients.  A principal in Kasowitz Benson Torres where his firm profile quotes the CBNBC reference to his being the "toughest lawyer on Wall Street" and Bloomberg's desription as "uberlitigator", Marc Kasowitz certainly has a profile that hardly needs descriptives.
Kasowitz left the New York office of Chicago-based Mayer Brown in 1993 to set up his own practice. In 1997 The American Lawyer reported that the then 18-partner firm was ridiculously profitable, with one former partner reportedly earning $21 million in 1995, $7 million of which went to Kasowitz (reportedly, again).  Whatever the figures, Marc Kasowitz has generated vast fees through his equally significant and wealthy client roster.
The same article quoted a colleague saying "he has a variety of personas. He can be tough, he can be gentle, he can be loving, he can be an asshole. He can be a lovable asshole."
Among the toughest clients in the Kasowitz rolodex are these five –
1. Donald Trump
Kasowitz's firm represented the Donald Trump Organisation in 2001 during the Atlantic City casino troubles when the company was attempting to restructure its bond debt.  Five years later he also filed a defamation lawsuit for $5 billion over the Trump biography, and then two further lawsuits against the New York Times in respect of tax returns published by the newspaper.
2. The Walking Dead
Marc Kasowitz represented AMC Networks, in respect of a vicious battle over apocalyptic zombie series The Walking Dead, involving arguments over profit participation, contractual breaches and related issues.  The suit, from former "Dead" producers Frank Drabont related to accusations that his profit involvement was cut and he was wrongfully terminated.
. . Darabont said he was seeking damages in excess of $280 million along with a judicial declaration of the parties' contractual rights and duties and an accounting of the hit television show's finances.

On Wednesday, Darabont's attorney, Jerry Bernstein of Blank Rome LLP, told Law360 that the dollar amount stated to the court was a low estimate.

"That's conservative," Bernstein said, adding that he expects the show will be picked up for another season. "It does not include the eighth season and this is the most popular show on cable television."
3.  OJSC Sberbank of Russia.
The bank is the biggest state-run bank in Russia, which has been accused of helping a granite-mining company with conspiring to achieve a corporate raid.
The Sberbank lawsuit was filed in late November in the Southern District of New York and unsealed in January. The complaint claims that a Russian company, P-Granit, was the subject of a hostile takeover by its rivals starting in 2009. By using a series of shell companies and "straw men," the rivals allegedly began to take control of P-Granit shares and "trapped" the firm's owner as it tried to refinance loans with Sberbank.
The US federal complaint said that "the cover-up and crimes were of sufficient enormity and sensitivity that Defendants Gref and Zhukov were compelled to mislead President Putin's advisor, Mr. [Andrey] Belousov, who was asked specifically to investigate the situation with the P-Granit/Sberbank Russia debt."
5.  Harold Peerenboom
Multi-millionaire Canadian businessman, owner of consulting firm Mandrake Management and former Toronto Harbour Commissioners chair had a major dustup with the gun-carrying Marvel Entertainment chair and Trump-associate Isaac Perlmutter in a battle that started over a tennis match in Florida.
Peerenboom apparently became concerned around 2010 that the Sloan's Curve (Florida) tennis facilities had been operated by a woman named Karen Donnelly for more than a decade without competitive bidding on a contract. So Peerenboom lobbied his fellow residents, who pay $2,500 a month in dues, to address the situation, which led Donnelly and her company to file a defamation lawsuit against him for allegedly smearing her at board meetings. Peerenboom later would accuse Perlmutter of seeking to protect the tennis courts (and his friend Donnelly) by orchestrating and funding Donnelly's lawsuit. Similar to Peter Thiel, the Silicon Valley billionaire who funded Hulk Hogan's successful sex-tape suit against Gawker over a personal grudge, the Marvel chief indeed was contributing to Donnelly's legal costs, though his reps deny the suit actually was spearheaded by him.

In 2011, Perlmutter's civil war really turned ugly. That year, residents at Sloan's Curve received anonymous mailings critical of Peerenboom's politics in Toronto during the late 1990s. Peerenboom believes the letters were an attempt by Perlmutter to undermine him, but he states in court papers that neither the hate mail nor the fact that he was being shunned by some at Sloan's Curve was enough to dissuade him from "active civic participation" in the community.
6. Liggett Group
Liggett Group, formerly known as Liggett & Myers is the fourth-largest tobacco company in the US which, in 1997, settled a deal with 22 states in a deal negotiated and implemented by Marc Kasowitz.
The company became the first cigarette manufacturer to acknowledge the deleterious health effects of smoking. In 1998 Liggett signed tobacco litigation Master Settlement Agreement and 1999 saw the formation of Vector Tobacco Inc.  In a front page article in The New York Times on March 21, Vice President Al Gore called the settlement "a historic victory for the American people."
The Bill O'Reilly Factor
The sex abuse claims circulating around Fox News contributor Bill O'Reilly provide Marc Kasowitz with one of the highest profile claims in current media circulation.
While not of the Bill Cosby level, O'Reilly's position as top earner at Fox, combined with recent allegations (denied vociferously by O'Reilly via Kasowitz.
According to a recent New York Times investigation, "a total of five women…received payouts from either Mr. O'Reilly" or Fox News parent company 21st Century Fox "for agreeing to not pursue litigation or speak about their accusations against him. The agreements totaled about $13 million." Allegations of sexual impropriety and other forms of workplace harassment against O'Reilly date back to 2004, when he was sued by "The Factor" associate producer Andrea Mackris.
Notable Representations From the Kasowitz website:
Notable Representations


President Donald J. Trump in a wide range of litigation matters for over 15 years.
ACA Financial Guaranty Corp., a bond insurer, in its $120 million fraud suit against Goldman, Sachs & Co. and hedge fund Paulson & Co., Inc. for fraudulently inducing ACA to issue a financial guaranty for Goldman's ABACUS CDO by deceiving ACA about Paulson's role and financial interest in the transaction.  Marc successfully argued the case before the New York Court of Appeals, creating precedent on the standards for reliance in fraud actions under New York law.
TPG in numerous matters, including in bankruptcy proceedings and multiple state and federal court actions concerning portfolio company Caesars Entertainment, and in obtaining injunctive relief against a former employee for breaching confidentiality obligations.
Douglas Elliman Realty, one of the largest real estate brokerage firms in the country, in numerous employment, contract, intellectual property and commercial matters.
MBIA, one of the world's largest monoline insurers, in litigation brought by 18 of the world's largest banks seeking to overturn MBIA's corporate restructuring which, with the approval of the New York Department of Insurance (now the Department of Financial Services), established a separate company for MBIA's municipal bond insurance business.  After a several-week evidentiary proceeding, the New York Supreme Court ruled in favor of MBIA, upholding MBIA's restructuring.  The banks agreed to drop their challenge to MBIA's restructuring, and MBIA then received $1.7 billion in cash and a $500 million line of credit for its municipal bond insurance business.
Fairfax Financial Holdings Limited, a Canadian insurance holding company, in a $6 billion New Jersey RICO action arising out of a short-selling attack on Fairfax and its operating subsidiaries by a group of hedge funds and their operatives in collusion with certain purportedly independent securities analysts.
Federal Housing Finance Agency, as conservator for Fannie Mae and Freddie Mac, in actions in federal and state courts against numerous financial institutions and individuals.  The lawsuits sought rescission or damages from the banks for, among other things, their misrepresentations concerning pools of mortgage loans that underlie residential mortgage-backed securities the banks issued, securitized and sold to Fannie Mae and Freddie Mac.  After prevailing on critical pre-trial issues, FHFA settled the actions brought by Kasowitz for over $2 billion, including a $1.25 billion settlement with Morgan Stanley.
Anderson News, a leading magazine wholesaler, in an antitrust action alleging a conspiracy among the leading magazine publishers and distributors to boycott Anderson forcing the company into bankruptcy.
Harbinger Capital Partners, a prominent hedge fund and majority shareholder of LightSquared, in connection with adversary proceedings against LightSquared's largest creditor in Chapter 11 bankruptcy proceedings.  In one of those adversary proceedings, the bankruptcy court held, after a trial on the merits, that the creditor breached the implied covenant of good faith and fair dealing and the creditor's misconduct warranted equitable subordination of its interest.
AMC Networks in the defense of a lawsuit brought by profit participants alleging, among other things, breach of contract, and seeking additional profit distributions from the AMC television series The Walking Dead.
Liggett Group as national counsel in smoking and health litigation for over 20 years and in conceiving, negotiating and implementing the first-ever settlement of smoking and health litigation, including health care cost recovery actions brought by state attorneys general.  These Liggett settlements led to industry-wide settlements and revolutionary changes in industry conduct, as well as extraordinary financial benefits for Liggett.
Association of Financial Guaranty Insurers, a trade association comprised of the leading monoline insurers, in a successful First Circuit argument that a Puerto Rican law allowing Puerto Rico, rather than Congress, to restructure its debt was unconstitutional and preempted by the Federal Bankruptcy Code.  Marc's amicus brief and oral arguments were considered instrumental in this precedent-setting win.
Source Interlink Distribution and Source Interlink Companies, magazine wholesalers, in an antitrust action alleging that leading magazine publishers and their distributors conspired to force Source out of the wholesale single-issue magazine market.  After Marc obtained a temporary restraining order compelling the defendant magazine publishers and their national distributors to resume supplying magazines to Source, one commentator noted: "Standing in the way of the publishers' alleged conspiracy, like Superman in front of a speeding locomotive, has been Kasowitz Benson."  The case then settled on favorable terms.
Private equity funds Apollo Management, Centerbridge Capital Partners, Fortress Investment Group, TPG Capital and others in disputes in large leveraged buyout transactions.  Marc formulated the litigation strategy for disputes with target companies regarding material adverse effect clauses, post-merger insolvency and specific performance, and disputes with major banks regarding funding of debt financing commitments.
Port Authority of New York and New Jersey as lead trial counsel in the five-week trial concerning the Port Authority's alleged liability for personal injury, wrongful death and business interruption damages arising from the 1993 terrorist bombing of the World Trade Center.  After trial, the New York Court of Appeals dismissed the action on the basis of a governmental immunity defense developed by Marc.
Apollo Management and its portfolio company, Hexion Specialty Chemicals, in litigation arising from Hexion's proposed $15 billion merger with Huntsman Chemicals.  Marc prosecuted an expedited proceeding against Credit Suisse and Deutsche Bank to compel specific performance of the banks' commitments to fund the acquisition, and successfully negotiated a settlement with Huntsman, bringing an end to one of the largest-ever battles over a leveraged buyout.  The Wall Street Journal lauded the settlement as a "sweet deal" for Apollo and Hexion.
Celanese Chemicals as national counsel for mass product liability litigation concerning allegedly defective plumbing systems installed in six million homes nationwide.  In addition to winning several trials on behalf of Celanese, Marc also negotiated and gained final approval for one of the largest product liability class action settlements in history, and successfully defended that settlement against constitutional law challenges in federal and state trial and appellate courts around the country.
Residential Mortgage-Backed Securities ("RMBS") Trusts, on behalf and at the direction of the holders of certificates in these Trusts, in put-back actions for breach of contract against the mortgage originators and/or the banks that sold the mortgage loans to the Trusts.
Harold Peerenboom in a defamation action against billionaire Isaac Perlmutter arising out of an anonymous hate-mail campaign against Peerenboom.  Marc defeated numerous motions by Perlmutter to dismiss the case, with the Court holding that the complaint's allegations sufficiently "link[ed]" Perlmutter to the hate mail campaign and that Perlmutter's alleged conduct was "sufficiently outrageous" to sustain a claim for intentional infliction of emotional distress.
[/vc_column_text][/vc_column][/vc_row][vc_row][vc_column][vc_column_text][/vc_column_text][/vc_column][/vc_row]